Projects
Reconstruction of Saules Veselibas Centrs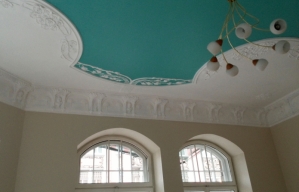 Client: Saules Aptieka Ltd.
Author of technical design: Arhitekta Edgara
Berzina birojs Ltd.
General contractor: Apprime Ltd.
Location: Brivibas street 68, Riga
Project duration: June - November 2013

The building in Riga, Brivibas street 68, is a national architectural monument (Arch. A.Schmeling, 1903, protection No. 6511), one of culturally and historically most significant urban fronts in the city of Riga. Moreover, it is one of the UNESCO World Cultural and Natural Heritage Sites in "Historic Centre of Riga" area.
During reconstruction the existing office on the 2nd floor was transformed into the medical and health care facilities for Saules Veselibas Centrs: 12 surgeries with auxiliary rooms and patient waiting- and public facilities. Necessary structural alterations were carried out to ensure accessibility for disabled persons.
The total area of health center is ​​800 sq.m. In all rooms Apprime provided finishing works and moved existing power supply system, water supply and sewerage connections according to health center's needs. Significant part of the project was aimed to ensure the existing elevator to the second floor and construction of new concrete stairs with stone slabs finish. Thus, the solution provided opening a new division and its reinforcement.
A variety of changes were applied to the building design during construction, so we worked flexibly in close cooperation with our customer and the authors of the project to ensure completion of all planned works by center's opening in November 2013.
Services: