Projects
Renovation of Riga Dome Choir School entrance hall and first floor corridors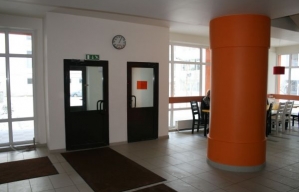 Client: Riga Dome Choir School
Renovation author: arh. Karlis Stepe, Valeinis un Stepe Ltd,
Location: Kalnciema iela 10 /12, Riga
Project duration: December 7 - 27, 2012
In December 2012, the interior on the first floor of Riga Dome Choir School underwent a positive change - according to the renovation author's intention "Apprime" fully restored the school's lobby and corridors to the canteen and dressing rooms. Now the entrance hall tonally relates to the bright color accents of the recently restored facade of the school building.
We performed following works: replaced the worn-out terrazzo tiles and linoleum with the stone tiles, smoothed and painted the walls with abrasion resistant and waterproof paint, assembled and painted the suspended ceiling. By reconstruction the previous rectangular column, we created the lobby's central interior which will now serve as a school billboard.
The total renovated area was 190m2. As a result of successful cooperation between the client, construction supervisor, renovation author and construction company we managed to keep within the project deadlines.
Services: