Projects
Riverstone - multi-apartment building in Riga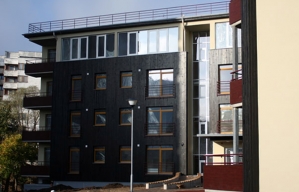 We have carried out internal and external electrical network installation works in a multi-apartment building project Riverstone in Riga with a total area of 4880 m2.
Location: 4 Kipsalas iela, Riga
Area: 4880m2
Project duration: November 2010 – February 2012
From autumn 2010 till February 2012 project development and construction company YIT Celtnieciba Ltd. has built two separate 4-storey buildings with 74 apartments and total area of 4880m2, including underground parking area. The project can be characterized by Scandinavian ascetics, minimalism, naturalism and quality.
We signed contract to carry out installation works of inner and outer electrical systems. Our employees have already done electrical engineering works for previous two YIT Celtnieciba projects – three multi-story residential buildings on Brivibas iela 386, Riga; as well as multi-storey residential buildings on Jurmalas gatve 100, Riga.
Services: