Projects
Engineering works within reconstruction of Riga 2nd Hospital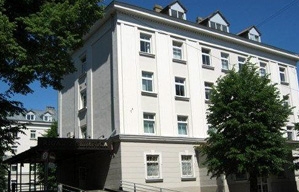 Location: Gimnastikas iela 1, Riga
Project duration: July – December, 2011

We have finished implementing construction works of internal engineering network within the framework of project on renovation of Emergency medical assistance patient admission unit and reconstruction of the main entrance and roofing of Riga Municipality Company Rigas 2. Slimnica (Riga 2nd Hospital).
Within this project we have been contracted to reconstruct sewerage, water supply, ventilation, cool air supply and heating systems. We are also installing power supply and low-voltage networks, as well as automated fire detection and fire alarm system. Furthermore we are responsible for installing power supply, air cable and pipe insulation in the attic, including lightning protection of the building.
Reconstruction was implemented with financial assistance from ERAF and within framework of the program Improvement of stationary health care infrastructure in Riga Municipality limited company Riga 2nd Hospital by improving quality of health care services and increasing efficiency of service costs.

Services: